...until St. Patrick's Day.
How do you celebrate?
Every time I mention Corned Beef & Cabbage, at least one person tells me how they
really
don't like that dish. But my recipe just isn't a typical Corned Beef recipe.
Ingredients:
*flat cut beef brisket with seasoning
*head of cabbage
*4-5 red russet potatoes
*1/4 cup brown sugar
*2 tsp cinnamon
*2 tbsp butter
Boil beef brisket in water to cover & seasoning packet for 3 hours or until tender.
Preheat oven to 300*F
Transfer beef to foil-lined cookie sheet.
Cut cabbage into quarters, removing center. Cut potatoes into thirds. Boil cabbage and potatoes in the water left over from the beef brisket.
Meanwhile,
Patty butter around on top of beef, sprinkle with cinnamon and brown sugar. Cook until sugar glazes.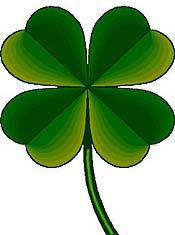 Serve hot
It isn't exactly the most healthy recipe. My corned beef is definitely a treat for special occasions. But it's absolutely
delicious
! :) I have yet to have anyone turn me down after they've tried it once... I do have to warn you, do
not
add salt until you've already tried it.
Do you have any fun/interesting St. Patty's Day recipes/traditions? Tell me about them!